Menifee Plumber - Top Service Plumbing Co. Inc.Men
Our Menifee plumbing experts offer commercial, residential, & emergency plumbing service, installation, and repair. We understand plumbing emergencies can happen at any time, which is why our company is available 24 hours a day, 7 days a week.
Have your plumbing situation resolved with the most experienced and qualified plumbing experts in the area. Our team is qualified to handle all of your plumbing needs.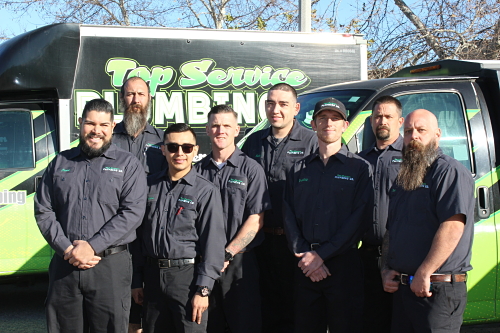 Trusted Menifee Slab Leak Detection & Repair Experts
Industry leaders for Menifee slab leak detection & repair plumbing services. Top Service Plumbing is widely respected for the quality level of slab leak detection services provided by our highly trained plumbers servicing Menifee and surrounding areas.
Do you have a home with a concrete slab foundation? The concrete under your home or commercial structure referred to as the foundation or slab can develop a foundation leak as a result of a leak in a water pipe or plumbing, or ground movement.
Whenever water is leaking in your home it is an issue that should be taken care of as soon as possible. Slab leaks are not always visible until there has been some degree of water damage to your property.
Having a leak in your slab or foundation can erode the soil around the home and cause the slab to collapse.
A slab leak has the potential to cause major structural damage to your home or business, so pick up the phone and call (855) 347-1299 as soon as you see any signs of trouble.
Our Menifee slab leak and repair experts are equipped with advanced, non-invasive equipment to detect a water leak. Put your trust in Menifee's leading leak detection and repair company.
It is important to act as soon as you notice any of the signs. Keep your home safe with our efficient non-invasive repairs.
Top Service Plumbing Co. Inc. is your local leading provider for leak detection solutions. We offer 24 hour emergency, residential, and commercial plumbing services to Menifee, Ca. and surrounding areas.
Top Service Plumbing is a family-owned and operated plumbing contractor. At Top Service Plumbing we don't just talk about customer service; we make it our top priority.
Book an Estimate for Drain Clean & Repair Service
It's as easy as…
Step 1: Book an appointment. Call (855) 347-1299 or schedule an appointment online.
Step 2: On-site Estimate. A uniformed, certified plumbing technician will arrive on-site to diagnose your plumbing system.
Step 3: Installation or Repair. Your Menifee plumbing technician will provide you with expert advice that best suits your installation or repair along with a detailed estimate.
Clogged drain won't go away on their own, they only get worse. So, when your drains are clogged, call our licensed experts (855) 347-1299. We provide you with the highest quality of service that the industry has to offer.
"I'm so grateful I found a dependable and professional plumber near me."
"Top Service Plumbing is my "go-to" plumber. They came to my house, arrived on time and quickly diagnosed my hot water heater. I was provided with options, a fair price estimate and they were fast in getting the repairs completed. I'm really grateful I found a dependable and professional plumber near me. Thank you!"