Highland Plumber - Top Service Plumbing Co. Inc.
Are you looking for a trusted plumber in Highland, California? Look no further, Top Service Plumbing is here to help. Call us today to get a no-obligation, estimate. We are at your service 24/7 for both Commercial & Resdiental customers!
Our plumbing professionals can handle any job no matter the size or scope and strive to exceed our client's expectations. When you are looking for a licensed, bonded & insured plumbing company in Canyon Lake that offers reliable service, Top Service Plumbing is a smart choice.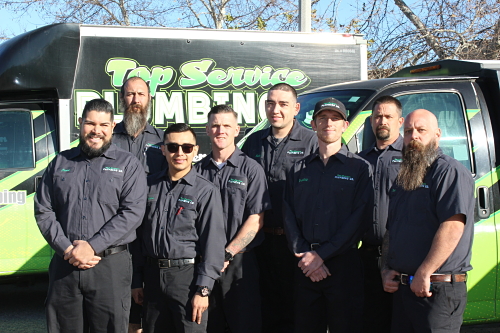 Highland Tankless Water Heater Specialists
Are you wondering if a tankless water heater would be a good replacement for your current setup? 
With modern technology and advancements, tankless water heaters are the ultimate in energy efficiency. Homeowners across the nation are recognizing the advantages of this eco-friendly water heater.
The tankless model is also referred to as an on-demand water heater. It provides instant hot water by heating up cold water as it passes through the unit.
Finding the right solution can be an overwhelming task. If you're not sure what you need, Our Highland plumbers are happy to provide expert advice on the type and capacity that best suits your needs.
Highland Slab Leak Detection & Repair
A slab leak is essentially a foundation leak. There are plumbing pipes underneath your concrete foundation with large amounts of water flowing through them.
When one of those pipes begin to leak it can lead to significant structural damage to your property.
A slab leak is one of the most difficult plumbing problems to detect and one that requires immediate attention and care.
Top Service Plumbing specialize in extensive plumbing services that range from leak detection to slab leak repair.
Some common signs of slab leaks include:
Shifting Foundation
Low water pressure
Cracked slabs
Floor hot spots
Our professional Highland slab leak experts will evaluate the situation and suggest any essential repairs to restore your property.  Call today (855) 347-1299
"I'm so grateful I found a dependable and professional plumber near me."
"Top Service Plumbing is my "go-to" plumber. They came to my house, arrived on time and quickly diagnosed my hot water heater. I was provided with options, a fair price estimate and they were fast in getting the repairs completed. I'm really grateful I found a dependable and professional plumber near me. Thank you!"